Double Black Blended Scotch Whisky
Double Black, Johnnie Walker´s boldest and most intense Blended Scotch Whisky, is the darker interpretation of the iconic blend Johnnie Walker Black Label with double the smoke and double the intensity. Derived from blending whiskies matured in heavily charred oak casks and specially selected whiskies with a naturally smoky flavour, Johnnie Walker Double Black embodies the characteristics of Johnnie Walker Black Label, whilst delivering a new, full-bodied intensity that makes it an unrivalled whisky choice. Johnnie Walker Double Black is an intense, full-bodied Scotch created as a smokier interpretation of the iconic Black Label. Made using smoky single malts and rich grain whiskies matured in heavily charred casks for a deep, smouldering flavour. Spiced cloves ignite dried fruit. Orange peel and vanilla cut through lingering peat smoke. A great gift for someone who loves smoky whiskies. Awarded with Double Gold-2019 -The San Francisco World Spirits Competition, this Scotch makes a gift of exceptional quality Perfect to be enjoyed at home neat or on the rocks.
Country of Origin: United Kingdom
Region of Origin: Blended
Type: Brown
Whisky Style: Full Bodied & Smoky
Alcohol by Volume: 40%
Age: 12
Tasting Notes - Nose: Delicious scent of sweet smoke and cloves.
Tasting Notes - Palate: Peaty taste, rich with raisins, fresh apples and a tropical orange flavour combined with creamy vanilla.
Tasting Notes - Finish: Wonderfully long, warming finish, smoldering spice from oak-aged casks, powerful lingering smokiness.
Flavour: Spicy flavours
How to Enjoy Best: Enjoy it on the rocks, with a dash of still or sparkling water or serve it in a tall glass as a unique Johnnie highball with the mixer like lemonade, ginger ale or peach iced tea, for an electric burst of bite and flavours. Serve on any occasion. Or this award-winning scotch whisky can also be an impressive gift for someone who appreciates sophisticated and smoky whiskies. The perfect gift to taste!
Awards: Multiple award winner. Has consistently won prestigious awards since its introduction in 2009.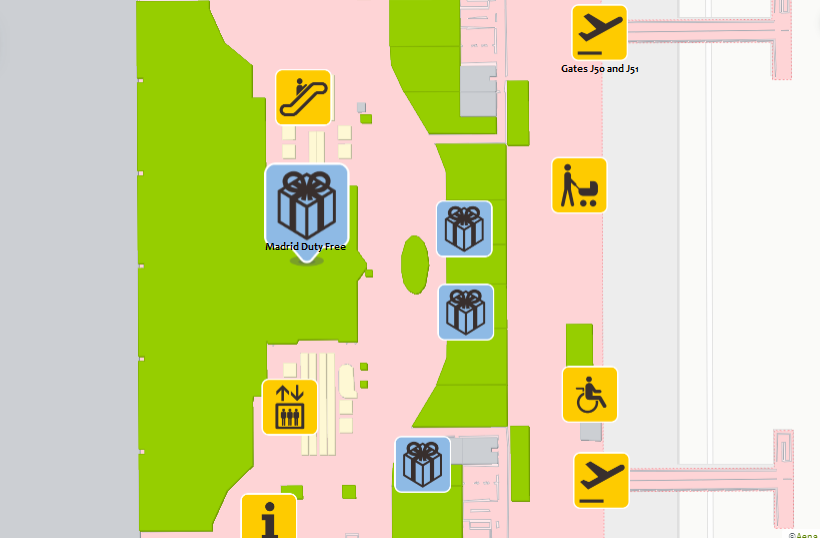 Collection point
Adolfo Suárez Madrid-Barajas - T4
Terminal 4, Floor 1, Departures/Arrivals (Gates H, J)
See collection point
This shop is located after the security checkpoint