Blue Label
Added to your bag
Please give us your flight information
Warning
Orders must be placed at least 24 hours before your flight
Johnnie Walker Blue Label is a velvety smooth and vibrant Scotch crafted using rare hand-selected whiskies from across the four corners of Scotland. Only 1 in 10,000 casks from our unparalleled reserves of aging Scotch, including some from long-closed 'ghost' distilleries, is considered to have the remarkable depth of character needed to craft this exceptionally smooth whisky. Rolling waves of rich spice give way to a deep surge of vanilla sweetness and honey. Caramel and hazelnuts course through dark chocolate before a luxuriously long, smoky finish. Johnnie Walker Blue Label is great enjoyed with a sip of iced water to prepare your palate, followed by a sip of whisky. A gift of remarkable rarity, an extraordinary whisky to discover the depth of flavour of the rarest whiskies. Velvety smooth and vibrant Scotch crafted using rare hand-selected whiskies from across the four corners of Scotland including some from long-closed 'ghost' distilleries. Only 1 in 10,000 casks from our unparalleled reserves of aging Scotch is considered to have the depth of character needed to craft Blue Label. Rolling waves of rich spice give way to a deep surge of vanilla sweetness and honey. Caramel and hazelnuts course through dark chocolate before ending a luxuriously long, smoky finish. Johnnie Walker Blue Label is great enjoyed with a sip of iced water to prepare your palate, followed by a sip of whisky. A gift of remarkable rarity. An extraordinary whisky to discover the depth of flavour of the rarest whiskies. What's your Drink IQ? Test your
Country of Origin: United Kingdom
Region of Origin: Blended
Type: Brown
Whisky Style: Light & Floral
Alcohol by Volume: 40%
Tasting Notes - Nose: Take in the wonderfully mellow, rounded nose – replete with dry smokiness artfully mixed with the sweetness of raisins.
Tasting Notes - Palate: Layers of dried fruits, citrus smoke, which then evolves into notes of honey, sweet spice, and vanilla.
Tasting Notes - Finish: Velvety chocolate and a rounded smoky finish.
Flavour: Spicy flavours
How to Enjoy Best: Savored neat with the palate cleansed and cooled by iced water.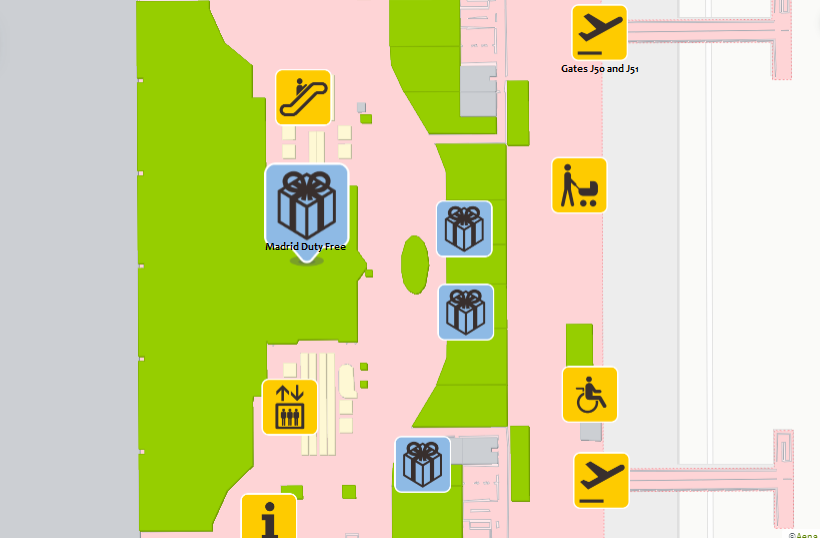 Collection point
Adolfo Suárez Madrid-Barajas - T4
Terminal 4, Floor 1, Departures/Arrivals (Gates H, J)
See collection point
This shop is located after the security checkpoint